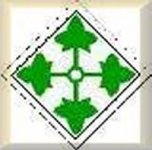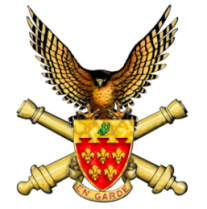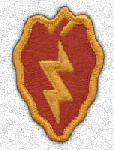 Falcon Logo used Courtesy of Jim Bowers, 77th FA Assn.
---
BEST VIEWING IN MICROSOFT INTERNET EXPLORER (THE MAIL CHOPPER WON'T FLY IN NETSCAPE), OPERA, OR FIREFOX. And the music won't play.
2/77 Army Artillery,Web Site Administration
---


Welcome to the 2/77FA (VN) Assn's Commo Shop!



| Back to Home Page | ALBUMHOME |

---
Want to see lots of Pics? Click ALBUMHOME above.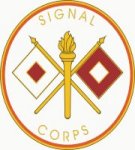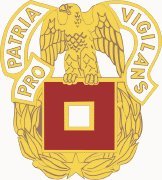 From the U.S. Army Institute of Heraldry:
Symbolism of Regimental Insignia:
The gold eagle holds in his talons a golden baton, from which descends a signal flag. The design originated in 1865 from a meeting of Signal Corps officers, led by Major Albert Myer, the Chief Signal Officer, in Washington, DC.The badge was a symbol of faithful service and good fellowship for those who served together in war and was called the "Order of the Signal Corps." The motto "PRO PATRIA VIGILANS" was adopted from the Signal School insignia and serves to portray the cohesiveness of Signal soldiers and their affiliation with their regimental home. The gold laurel wreath depicts the myriad of achievements through strength made by the Corps since its inception. The battle star centered on the wreath represents formal recognition for participation in combat.It adorned a Signal flag and was first awarded to Signal Corps soldiers in 1862. The battle star typifies the close operational relationship between the combined arms and the Signal Corps. Professional Combat Signalmen, who are proud of Both their Signal Corps, and Artillery Heritage, History, and Service-- 2/77FA COMMO Platoons, and Sections, Be proud of our Dual Heritage and Accept My salute to you! :-)

---
|Back to Home Page|
ALBUMHOME.html LOTS OF Pics! |
---
BEST VIEWING IN MICROSOFT INTERNET EXPLORER (THE MAIL CHOPPER WON'T FLY IN NETSCAPE), OPERA, OR FIREFOX. And the music won't play.
---
THANKS FOR SERVING, VETERANS!! WELCOME HOME!
---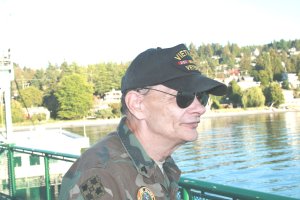 I run this Taco Stand!

I are "SgtMikie" - a Nickname I earned in Vietnam, by being not only the youngest guy in my platoon at 18 Yrs., 4 months old and not quite 19 when I made Acting Jack, then buck sarge.
That was during my tour with HHB/2/77FA, 1967 - 1968. I came over on a boat, the USMSTS Gordon with the 6/77th From Ft. Irwin CA. Landed in Vung Tau 22 May '67. Then we went to CU-CHI till I transferred up to DT July 5th, '67.
I was assigned to the Commo Platoon, in the Radio Teletypewriter Section. Hard Copy messages between various HQ. Dealing with Anything a Commander needed a hard copy of, from Bullets, Beans, Beers, and Bowls, to the Daily METRO Message, Messages with pre-plot coordinates for H & I Missions, SPOT REPS, SITREPS, FINAL PROTECTIVE FIRE COORDINATES, March Orders, AARs, Vehicle Orders in Convoys, S1, S2, S3 & S4 stuff,etc. etc. and so on. We were the guys one group of them who drove the funny-looking OD Camper with an antenna bracketed in the front center of it. Sometimes it was a whip, bent down over the roof and tied in place. Hmmm.
We were also the guys who pulled perimeter guard on the FSB and Base Camp Perimeters with you, and helped some of you dig the FDC/TOC Bunker, and of course, the ever popular "Commo Bunker" The BIG ones, LOL!
The e-dress connected to the mail chopper, and the 2/77 Roster page, is my PERMANENT PRIORITY E-DRESS Or at least as permanent as these things can get. This address is the one that the "Mail Chopper" flys to, as well as the only one I realy like to get mail at.
---
Thanks, guys, :-)
I am the web crew.....
Anyone lookin for a part-time volunteer job? If you want to drop me a line...suggestions....complaints....whatever...just toss it on the supply/mail chopper....Located up Yonder WATCH FOR NEW STUFF AND MORE CHANGES