---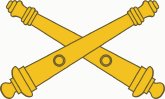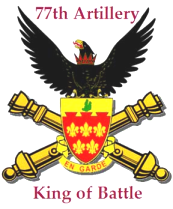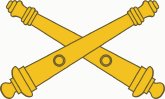 ---
|HOME | Battles HOME | NEXT PAGE | PAGE 3
---

---
The Battle for Dau-Tieng, Base, 3Bde,25 ID
22 - 23 Feb. 1969
---

If my memory serves me right, (From my tour '67 - 68) - The battle was part of the '69 "TET OFFENSIVE" the Tet Holidays did not last that long, BUT the offensives the enemy started during the holidays usually did last 2-3 weeks.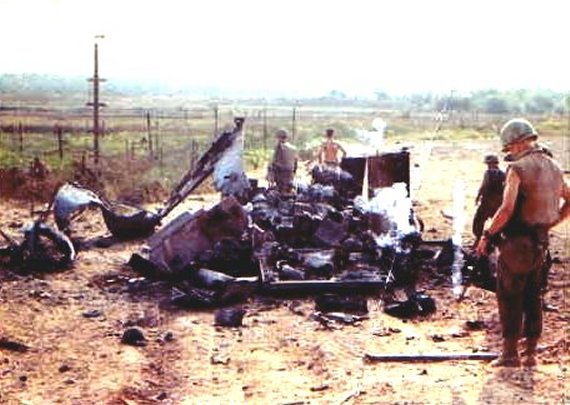 The above picture is of one of the APC's of 2/22 Inf.(M)that moved to just off the east end of the runway during the attack, apparently just in time to get destroyed.
---
I'm going to do something different this time. Starting with First hand accounts of the individual warriors we know about who fought that battle so bravely, and were Cited for it from the highest, to the lowest,Unfortunately, some are second hand, from observers of the bravery that got them killed.
The battle itself took place in various hot spots around the perimeter, and at the various HQ Buildings, and the flight lines of the airstrip. And, so it is with the individual stories. They all showed their courage and determination in defending their particular aspect of the overall battle. As noted, some of the pictures may be disturbing to some of you. Here is your chance to 'tune out' now. War itself is very disturbing, but it is also part of history, and history deserves the truth. And pictures speak of course, thousands of words worth of that truth at a time, even if just a glance. So, we are not trying to glorify, but rather show truthfully show war and its horrors. That being said, The pictures of enemy warriors, will be in the picture album of the same name as this off of the ALBUMS link on the left side navigation frame of the home page. They were very good, tough warriors themselves.
---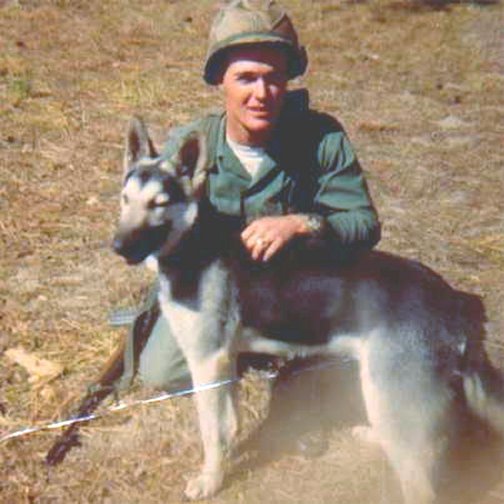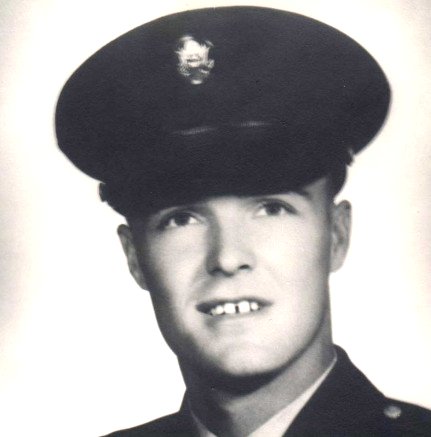 Staff Sergeant Robert W. Hartsock
KIA--Dau Tieng,Vietnam February 23,1969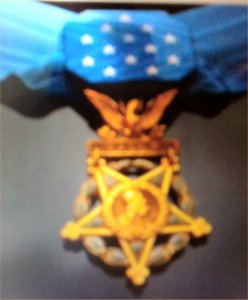 MEDAL OF HONOR

RIP- Robert. I corrected the name of the Province you died in. Binh-Duong.
Staff Sergeant Robert W. Hartsock, United States Army, who distinguished himself on 23 February 1969, by conspicuous gallantry in action while serving as section leader with the 44th Infantry Platoon, (Scout Dog), 3d Brigade 25th Infantry Division in Binh Duong Province, Republic of Vietnam.

"On this date, when the Dau Tieng Base Camp was under heavy enemy rocket and mortar attack, Sergeant Hartsock and his platoon commander spotted an enemy sapper squad which had infiltrated the camp undetected. Realizing the enemy squad was heading for the brigade tactical operations center and nearby prisoner compound they concealed themselves and, though heavily outnumbered,awaited the approach of the hostile soldiers. When the enemy was almost upon them, Sergeant Hartsock and his platoon commander opened fire on the squad. As a wounded enemy soldier fell, he managed to detonate a satchel charge he was carrying.
Sergeant Hartsock, with complete disregard for his own life, threw himself on the charge and was gravely wounded. In spite of his wounds, Sergeant Hartsock crawled 5 meters to a ditch and provided heavy suppressive fire,completely pinning down the enemy and allowing his commander to seek shelter.Sergeant Hartsock continued his deadly stream of fire until he succumbed to his wounds.
Sergeant Hartsock's valorous efforts resulted in the disrupting of the enemy squad's mission, saved his platoon commander's life and, indirectly, the lives of many other comrades.Sergeant Hartsock's extraordinary heroism and profound concern for the lives of his fellow soldiers were in keeping with the highest traditions of the military service and reflect great credit on him, his unit,and the United States army."
---
Robert Hartsock Biography

Sgt. Hartsock is buried in Rocky Gap Veteran's Cemetery.
A former employee of the Baltimore and Ohio Railroad, he had entered the army in August 1967 and received training at Fort Bragg and Fort Benning before going to Vietnam from Camp Pendleton, Calif. and had only two months remaining of his duty tour in Vietnam when he was killed.
A resident of R.D. #1, Flintstone MD, he was a 1962 graduate of Everett Southern Joint High school. where he played baseball and later became an avid spectator and sports fan and deer hunter.
The Cumberland American Legion Post #13 gives the Robert W. Hartsock Memorial Scholarship Annually to a Flintstone student who is going on to further his/her education.
Staff Sergeant Robert W. Hartsock was recognized with the highest military honor possible in a presentation to his parents, Mr. & Mrs. Kenneth Hartsock of Baltimore Pike, August 6, 1970 at the White House oval office in a ceremony led by President Richard M. Nixon.
The chapel at Rocky Gap Veteran's Cemetery is dedicated to Sergeant Hartsock. Three portraits and his Medal of Honor Citation are displayed in the chapel.
Sergeant Hartsock is the only Everett alumnus to have been awarded the Medal.
©1999 Everett Alumni Association, used with permission
Photos property of Hartsock family, Gratefully used with permission Through Bill Biggs.
---

Above is a picture of the APC (all were from 2/22 Inf (M)- that deployed to the left, (North) side of the main runway, which ran West to East, or East to west,depending on which end you stood. Details of it and its crew are in the 2/22 Inf. (M) AAR. I have to say that it is one of the best most detailed AARs I have seen, and gives a detailed overall picture of the battle, and other good information. So, Salutes to Maj. David M. Norris, AGC. This and most of the other pictures are courtesy of Bill Biggs, Bill Wimer, Thom McGarey, and Bill Harwood's Sister, Joe Colussi,and Kenneth Fillmore. ---Many Thanks.
---
Vol 4 No. 25 TROPIC LIGHTNING NEWS June 23, 1969
Five Battalions Get Unit Citations;Two Soldiers Awarded DSCs
CU CHI - Five Tropic Lightning Battalions were awarded the Presidential Unit Citation and two Tropic Lightning soldiers were awarded the Distinguished Service Cross by General Creighton Abrams, Commanding General,MACV,in ceremonies in the Divisionís Cu Chi base Camp. The battalions cited were the 2d Battalion, 77th Artillery, 2d Battalion, 12th Infantry, 2d and 3d Battalions, 22d Infantry, and the 2d Battalion, 34th Armor.
---
Awarded the Distinguished Service Cross were

1Lt. Andres Gutierrez of Co C, 1st Battalion, 27th Infantry and Private First Class Donald E. Evans of B Troop, 3d Squadron, 4th Cavalry.


1LT Andres Gutierrez

distinguished himself by his Exceptionally valorous actions on February 23, 1969 during a rocket, mortar, and ground assault on the Dau Tieng base camp by two NVA battalions reinforced with sapper elements. Gutierrez organized a reaction force and led it to a point in the perimeter that was under heavy enemy pressure. Spotting three NVA preparing to fire an RPG into a bunker, he killed them with his pistol. During the battle he continually exposed himself to the enemy fire to rescue and treat the wounded and supply his men with ammunition.
---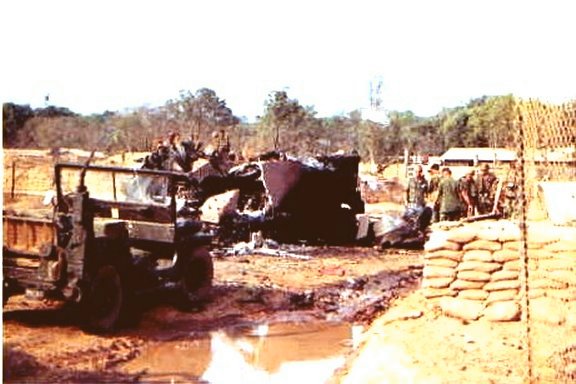 The above picture also courtesy of Bill Biggs, is of the APC that deployed to the Right (SOUTH) side of the runway.
---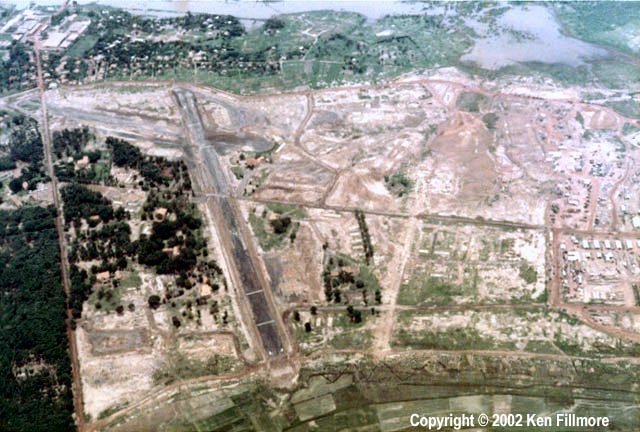 The above photo is an aerial of DT Base, focusing on the Air Strip.Taken from North.
---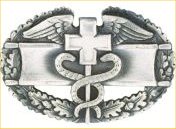 Another one of our Heroes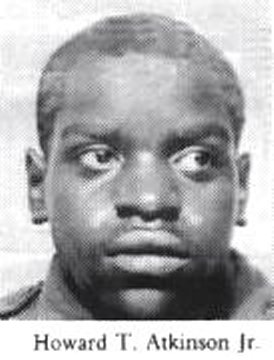 SP4 Howard T.Atkinson, Jr. Silver Star, Medic HHC, 65th Engr. Bn.

RIP, Howard. Your bravery and devotion to comrades will NEVER be forgotten The photo and following article are taken from The hiladelphia daily News, special supplement entitled 'SIX HUNDRED AND THIRTY,'
October 26, 1987. The special supplement was issued in conjunction with the dedication of the Philadelphia Viet Nam Memorial. Atkinson began a family tradition when he enlisted in the Army in November 1965: three of his four brothers followed his lead by joining the Armed Forces. The 22-year-old specialist four, a medic with Headquarters and Headquarters Company of the 65th Engineer Battalion, 25th Infantry Division, was on his second tour of duty in Viet Nam when he died on February 23, 1969, in a attack on the Dau Tieng Base Camp, Atkinson saved his sergeant and refused to leave wounded comrades before he lost his own life. He was posthumously awarded the Silver Star. The former Overbrook High School student was survived by his parents, four brothers and three sisters.
(Tribute by Jim McIlhenney. Philidelphia Pa.)
---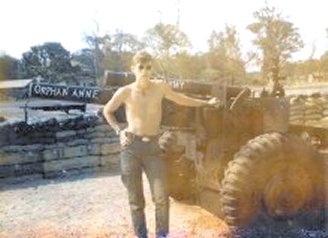 PFC Bill Harwood,ARCOM-V
2/77FA and "Orphan Anne" the 105MM Howitzer that fired "Direct Fire" down the runway from the vicinity of the Air Force Villa. It was rumored that the tube got so hot it was "cooking off" rounds.
The picture below is Bill's Citation which tells his story of his and Orphan Annie's crew's part in the battle.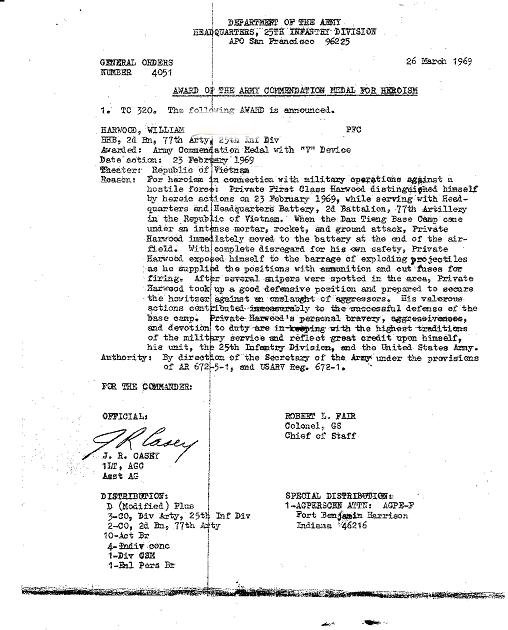 ---


Another non cannon Artillery person who distinguished himself as a "Rifleman First"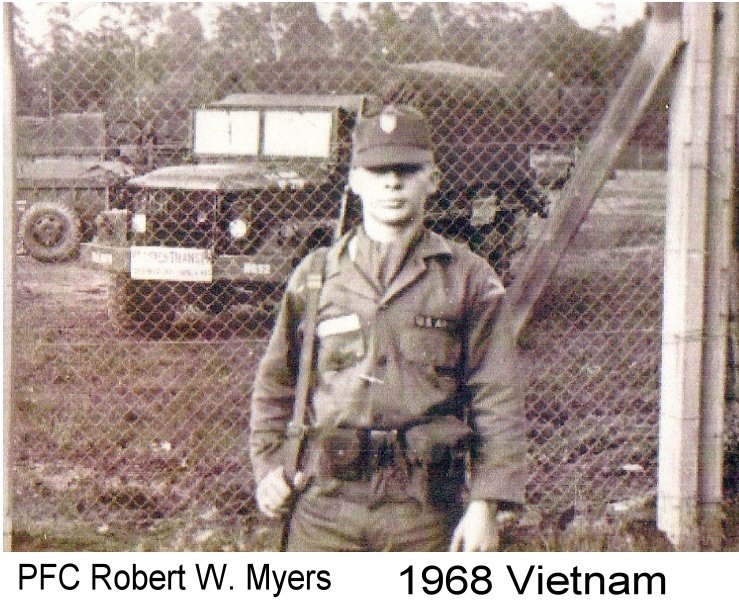 PFC Robert Wayne Myers, HHB/2/77FA

Below is Robert's Citation for the ARCOM-V. For his part in the Battle. Robert was (I think) Medically discharged in Aug. '69. He died in Aug. 71, a DELAYED CASUALTY of the battle and the war. RIP.Wayne as he called himself will have an album in the ALBUM section, with pictures sent to us by his Beloved Sister. Wayne, your contribution, and devotion to your comrades will NEVER be forgotten!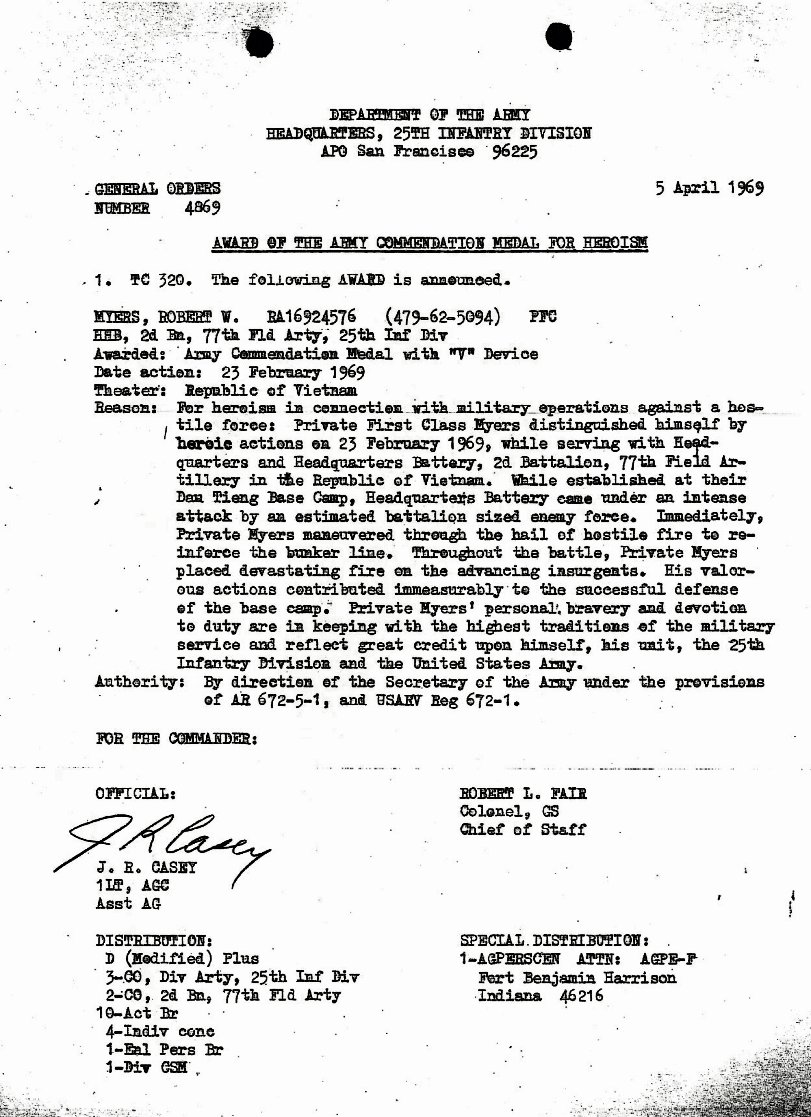 ---
NEXT PAGE link for the rest of the personal accounts of other participants in the battle.
---