---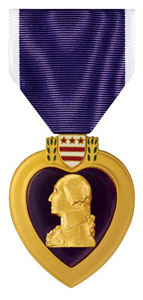 ---
| HISTORY HOME |
| SITE HOME PAGE |
| SILVER STAR |
| DISTINGUISHED FLYING CROSS |
BRONZE STAR VALOR |
PURPLE HEART |
BRONZE STAR MERIT |
ARCOM VALOR |
ARCOM MERIT |
---
The following are the names of 2/77FA Soldiers awarded the Purple Heart for wounds received in or as a result of a combat action with a hostile force. (paraphrased) Where it is known, the abbreviation for Posthumously Awarded is beside the name (Post). Post are likely retro awarded to the date of the action. Otherwise The date likely reflects the date decorated, not the date of the action, except where known. Some names appear more than once for the same decoration, but the date is different. In those instances, I put it down as a multiple award. If you are one of these people, and there is an error, please let me know through e-Mail

This Page will likely change often as I get to update it. I will also be listing our KIA's First,in chronological order, then Start with the others. If YOU belong here, be SURE To email me with your Name and Rank at the time Battery, and the date of award from your Citation. And PLEASE be patient.
MOST OF THESE WILL DISPLAY ON ONE LINE --IF- YOU PUT YOUR MOUSE OVER THE LEFT VERTICAL BORDER THEN CLICK AND HOLD THE LEFT BUTTON, AND JUST DRAG THE BORDER TO THE LEFT. CLICK THE BUTTON WHEN YOU SEE <----> (WINDOWS PC)

SgtMikie


"U" INDICATES UNKNOWN BATTERY ASSIGNMENT.
---
John D. Burns (POST) C/2/77 JAN-11-67
Richard Perez Cruz C/2/77 (POST) MAR-20-67
Norman L. Ballance III (POST) H/2/77 MAR-21-67
Jack Eaton (POST) A/2/77 MAR-21-67
Willie Grant, Jr (POST) C/2/77 MAR-21-67
Garland A. Newhouse (POST) B/2/77 MAR-21-67
John Francis Pezzulo (POST) A/2/77 MAR-21-67
SP4 Lawrence E. Pollock (Post) A/2/77 MAR-21-67
David Clyde Rodgers (POST) C/2/77 MAR-21-67
Algernon P. Thomas (POST) B/2/77 MAR-21-67
Thomas Martin Seklecki (POST) A/2/77 MAR-21-67
James C Dixon (POST) H/2/77 APR-27-67
Edward Jerome Colston (POST) U/2/77 JUN-11-67
Norman Robert Goble (POST) B/2/77 NOV-21-67
Robert A. VanPatten (POST) B/2/77 NOV-25-67
Jerald Frederick Delooze (POST) B/2/77 DEC-14-67
Thomas Berry Corbin (POST) C/2/77 JAN-01-68
Richard Thomas Jackson (POST) H/2/77 JAN-06-68
Ronald G Pahl (POST) B/2/77 JAN-19-68
Gene Daniel Hicks (POST) B/2/77 JAN-19-68
Edward Joseph Craig (POST) A/2/77 JAN-26-68
Maxie Lane Price (POST) A/2/77 JAN-26-68
Reginald Alfonso Stancil(POST)A/2/77 JAN-26-68
John R Barfield (POST) A/2/77 FEB-09-68
Billy James Brown (POST)C/2/77 APR-12-68
Richard Allen Estrada (POST) B/2/77 APR-13-68
Thomas Keith Beamon (POST) A/2/77 APR-23-68
David Ray Owens (POST) A/2/77 MAY-07-68
Bradley D Bowers (POST)H/2/77 JUL-04-68
Marshall Wayne Fisher (POST)H/2/77 JUL-04-68
Eugene Lynn Markwell (POST) H/2/77 JUL-04-68
Wilfredo P Zamora (POST)H/2/77 JUL-04-68
Joseph Macon (POST) C/2/77 SEP-12-68
Dennis Lee Dulebohn (POST) B/2/77 DEC-22-68
William Junior Jones (POST) H/2/77 JAN-27-69
Gary Neal Isaacs (POST) H/2/77 JAN-30-69
Lee Daniel Thomas (POST) B/2/77 MAR-07-69
Charles Dwaine Roberts (POST) B/2/77 AUG-12-69
Orville E.Kitchen,Jr (POST) B/2/77 APR-02-70
Michael Heinrich (POST) B/2/77 MAY-18-70
Floyd Abner Schliewe (POST)B/2/77 OCT-20-70
*******END KIA LIST*******
Fred DeLong H/2/77 DEC-17-67
James Timbrook, C/2/77 Jul-04-68
---
| HISTORY HOME |
| SITE HOME PAGE |
| SILVER STAR |
| DISTINGUISHED FLYING CROSS |
BRONZE STAR VALOR |
PURPLE HEART |
BRONZE STAR MERIT |
ARCOM VALOR |
ARCOM MERIT |
---